At Dr. Q Pediatrics, our team consists of experienced, compassionate pediatricians and friendly, nurturing staff members who take pride in giving our young patients the personalized pediatric care that they deserve.
We understand that you have a choice of pediatricians in the Orlando area, and we appreciate your consideration. We can assure you that you'll feel confident in our ability to meet of your expectations.
Our pediatrician is highly a educated professional who have undergone rigorous academic and clinical training in pediatrics at Arnold Palmer Hospital , part of Orlando Regional Medical Center ( Now Known as Orlando Health) . We are Office based pediatric practice and we are on Medical Staff at Orlando Health, Florida Hospital and at Nemours Children's Hospital. We work in close communication with these Hospitals as well as the several outpatient Pediatric after office hours centers . We maintain a high level of expertise through continuing education in order to provide the most up-to-date care for the young patients we are privileged to serve.
Certified by The American Board of Pediatrics. Member of the American Academy of Pediatrics, American Medical Association, Central Florida Medical Association.
Dr Q Pediatrics believes in a team approach to your child's health and well-being, so doctor collaborate with parents to provide the highest level of care. We appreciate the opportunity to care for your child and pride ourselves on making pediatric care a pleasant and learning experience for all of our patients and families.
Dr. Marie R. Quiñonez, MD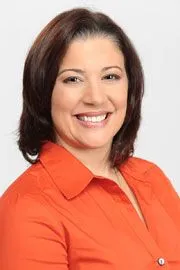 Dr. Q was born and raised in Caguas, Puerto Rico. At 5 years old she announced that she was going to be a Pediatrician just like her Godmother . She worked and studied hard and she did! She Graduated from Notre Dame High school and proceded to study pre med and a Biology Major at University Of Puerto Rico , Cayey campus. Then she attended Ponce School of Medicine in Ponce , P.R.
During her Medical school Pediatric rotations as a 4th year she came to Orlando for one rotation of 4 weeks at Arnold Palmer Hospital. She liked it so much that she ended doing three.It worked out great both ways so after graduation she started her Pediatric residency there on July 1993. When done with her residency She worked for their Hospital managed practice for 4 years before starting in private practice with a couple of groups and enjoyed doing some extra time doing Locum tenens in Low income areas in Georgia .
On September 2003 Dr Q Pediatrics was founded and opened it's doors on January 2nd 2004. Comprehensive approach to health has always being key working closely with Dr. G and Pediatrics specialists all over town . Dr Q has a very special interest in premature babies. It is imperative for her at this point to have a small practice atmosphere that includes knowing closely her patients and families .
Some of their patients are now all grown up and started to bring the new generation back...which is the biggest compliment to a job well done!